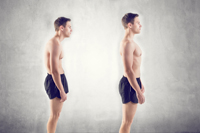 A psychological trauma is imparted in the brain and thus in the body, or is it the opposite?. Is it possible to meet a depressive person with a well-positioned body posture accompanied by joyful words?. Mostly Life is very dark and boring. Everything connects perfectly.
Most of my clients come for physical problems such as difficulty of walking, of mobility, or poor balance, all directly related to their body posture. My attention to the words they use to describe their physical problems are also revealing about their beliefs and their emotional aspect. Physical pain is connected to this. 
 
What happens when I reorganize my client's bodies in space using Rolfing's technique? The first thing is the reduction of physical pain connected with a feeling of vertical lightness. Their external images project a more dynamic and confident person. Interaction with others changes causing emotional change. 
 
The most interesting in this process is the way they express themselves more positively and their conversation is more attractive to listen to. My participation with psychoanalysts is very interesting in this respect. Thoughts are more likely to change when the correction of body position is addressed.