I was invited by a long time client, Corey Evans (owner of Dr. J's, Bike Shop in Solvang, CA), to do a presentation on Rolfing® Structural Integration and the relationship between posture and cycling performance to his Bike Club. In preparing for this, I recalled Mary Bond's video on YouTube  about the benefits of modifying the cyclist's body posture to improve his performance. The model reported pedaling with greater ease. It inspired me to work up a 3 Rolfing Session program w/a local Cyclist wherein we would document improvement w/data. In searching for a participant, I contacted Carmichael Training System (CTS) in Santa Ynez , CA. They specialize in coaching and training both professional & amateur cyclists and triathletes. I have been providing bodywork for their athletes during training camps for a few years now and was quite certain they would provide me w/a serious candidate for the experiment. They did: Julia Gieschen. Julia Gieschen is one of their Expert level Coaches at CTS and a Professional Cyclist Cat 1
http://trainright.com/coaches/julia-gieschen/
She was quite interested in Rolfing and happily accepted this experience. [caption id="attachment_884" align="alignleft" width="447"]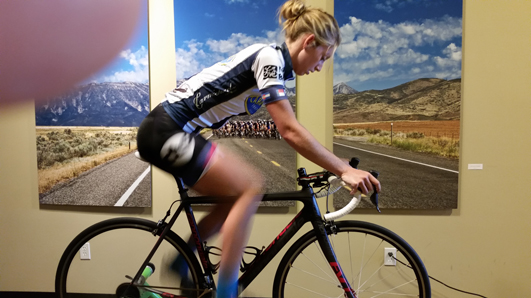 Julia working on her bike posture during Power Watt Test[/caption] We had very limited time to coordinate 3 Rolf Sessions between our busy schedules, within the 10 days before my presentation. I had to reduce the time between sessions so as to not alter Julia's daily training schedule and physical performance.
Goal:
  To demonstrate if after 3 Rolf sessions, if the athlete can show some Power Watt (measurement of force applied to pedal from legs ) improvement on her bike as a result of improved body posture. We set Julia's Bike on a fixed trainer with a Garmin device that monitors Cadence per Minute, Power Watt, and Time. The Garmin device was connected to a CTS computer program that monitors the consistency of cadence during the tests. We decided to do two tests: Cruising Mode and Intense Effort. [caption id="attachment_870" align="alignleft" width="109"]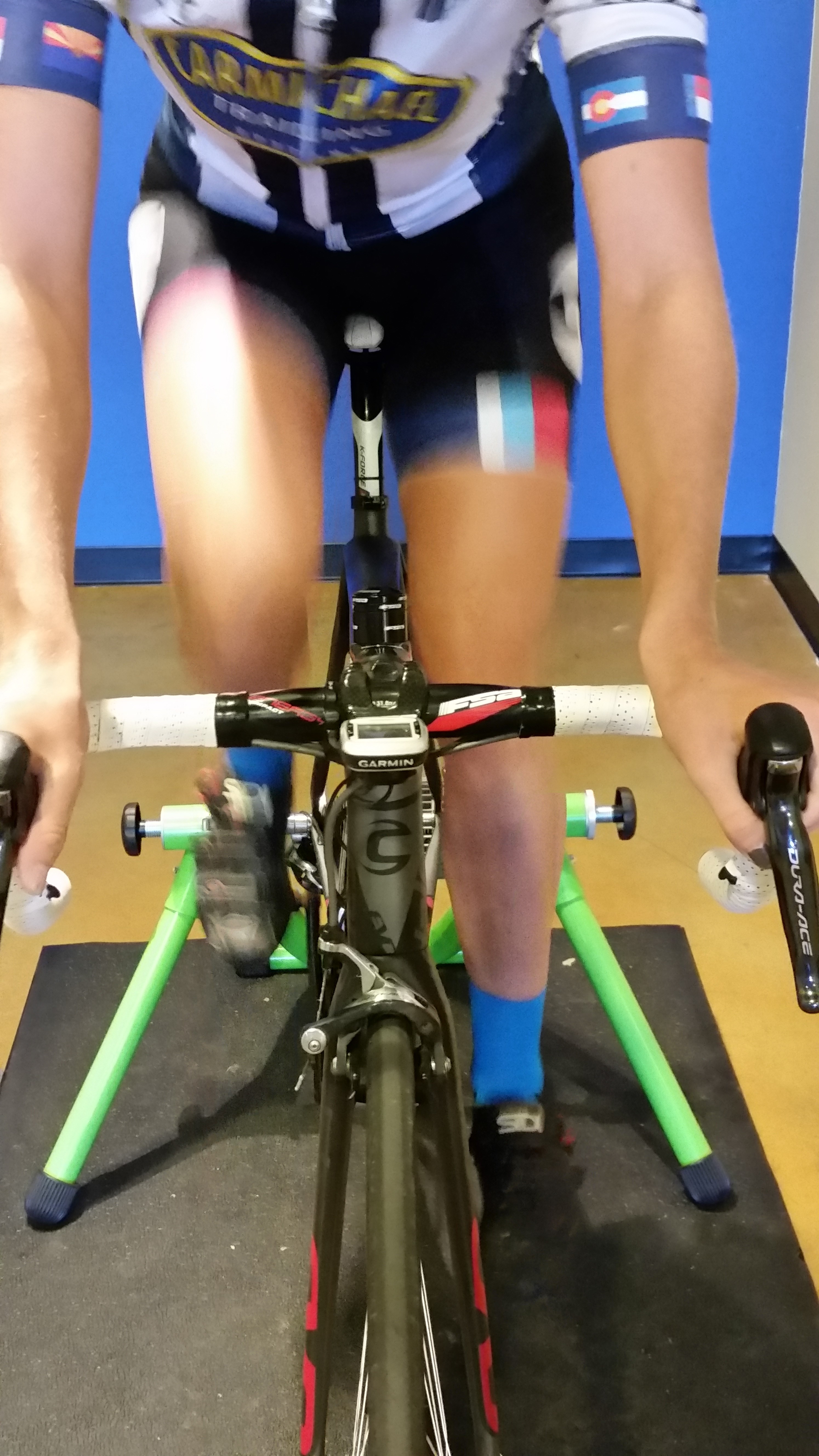 Julia's knee tracking[/caption]
1) "Cruising Mode"  The Chain is set up on a mid great on the cassette and the bigger plateau on the front. After a warm up, the effort is to maintain a cadence of 95 rotations/min for 5 mins. will in her normal cycling position, rest for 3 min. , and 5 min. cycling at a cadence of 95 rotations/min with an ideal cycling position (achieved by my checking and resetting Julia's body position, to avoid her collapsing into her usual position)
2)"Intense Effort" As above with the gear on the cassette set to a smaller bracket.
Observations Before Rolf Sessions:
In her usual cycling position, Julia's knees were tracking in: close to the middle frame bar with left knee hitting the middle bar at each pedal rotation. Her head was tilted to the left with left shoulder raised and pained. In the "Ideal Cycling Position" her left knee was not hitting the bar but left hip started to hurt. Her efforts were concentrated on her body posture making it very difficult to maintain her cadence. The shift in pelvis angle on the saddle created a discomfort on the pubis bone.
Results Before Rolf Sessions:
in Cruising Mode, we found an improvement of +5 in Power Watt  by just modifying the body posture , and +1 PW for the Intense Effort. She was mentally challenged to keep her posture on the bike and physically uncomfortable to maintain the cadence especially during the "Intense Effort Test". (Hip pain, shoulder restriction) I performed 3 Rolfing Sessions (the 3 first session of the 10 series) in less than 10 days and we tested again.
Observations After Rolf Sessions
: In Cruising mode and in Ideal Position, she felt so different that she had to control her cadence to avoid to go over the 95 Cad/min, knees were still tracking in, but she experienced no hip pain and left knee was no longer hitting the frame. In Intense Effort, she still had to concentrate on her posture to hold her "Ideal Posture" however it was w/less discomfort.
Results After Rolf Sessions
: We found an improvement of +12 in Power Watt on Cruising Mode and +2 in Intense Effort. Meaning that for the same climb and distance, she will finish with more than two minutes less compared to her normal time. Julia reported a benefit when climbing as the aerodynamic position is not so important. Joachim Creten , Certified Rolfer™